SCHS CLASS OF 1950




Going Strong

College
Picture


High School Sweethearts

Robert Lewis Lamb
115 Foxfire Lane
Joplin, Missouri 64801
E-MAIL Bob & Patty
Bob entered the University of Kansas at Lawrence after graduation from high school. He graduated in 1955 with a Bachelor of Science degree in Electrical Engineering.

On September 6, 1953 he married Patricia Kanuch, his high school sweet heart. They have two children Nancy Durham and David Lamb, both of Joplin, and are blessed with five grandchildren and three great grandchildren.

Bob began work for Empire District Electric Company on January 31, 1955 as an Electrical Engineer in Joplin. Missouri.


He took a military leave of absence from the Company in June of 1955 to enter the Air Force in the research and development areas where be attained the rank of Captain. He returned to Empire in July of 1958.


During his career with Empire Bob held various positions in the engineering and customer service areas, of the business. and was elected to the Board of Directors of the company in 1978. He was elected President on June 1, 1982.

An active community leader, Bob has served in various capacities of many local. state and national organizations. Including President of the Boards of the Missouri Chamber Commerce. St. Johns's Regional Medical Center, Missouri Southern Foundation. Board of Regents of Missouri Southern State College and Joplin Chamber of Commerce.


In 1984 he was honored with the Professional Degree of Management Engineer from the University of Missouri-Rolla.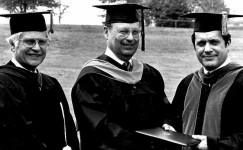 In 1997 he was recognized as Joplin's Outstanding Citizen, and in 1991 named as Outstanding Community Economic Development Leader for the State of Missouri.
In March of 1997 Bob retired as President of the Empire District Electric Company. His career with Empire spans 42 years. He is still active on a few boards,but mostly enjoys his grandchildren, travel, his model train, and golf.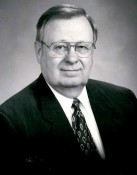 President of
Empire District
Electric Company